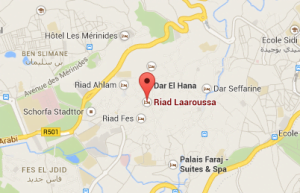 Riad Laaroussa is situated on hill in the old city of Fez. Our hotel is a five minute walk from nearest gates Batha and Ain Azliten. Our porter will greet you at the gate of the medina and lead you to the riad just a few minutes away.
Getting to Fez
Fez is easily accessible by train, highway or air to other major cities in Morocco and Europe.
Trains run regularly between Fez, Rabat, Casablanca and the rest of Morocco. The train schedule and online ticket purchase can be found at www.oncf.ma.  Riad Laaroussa can also purchase train tickets on your behalf for trips originating in Fez.
Riad Laaroussa will be happy to arrange taxi service from other cities in Morocco, from the airport or train station at your request. Rabat is 3 hours away by car, Casblanca about 4 hours, Marrakech is 6 hours by the highway, and Tangier 5 hours.
If you arrive by your own car, the nearest parking is called Aïn Azletin, on the north side of the medina (N 34° 03.880′ W 004° 58.890′). It has a 24h guard and costs 30 MAD/night. The easiest way to reach it is to hail a little red taxi once in town and ask him to take you there. It should cost about 10 to 15 MAD.
Flying to Fez
The Fez airport is 30 minutes from the old city. Flights arrive directly from Europe on Royal Air Maroc and several low-cost airlines. See our list below!  In-country flights operate via Royal Air Maroc and low-cost Air Arabia. Schedule, fares and reservations are available at: www.royalairmaroc.com and airarabia.com.